Officers
2019-2020  SJF Officers
President Emeritus – Gregg Trusty, co-founder of SJF
A 1984 charter member of the Foundation, Gregg served as its president from 1987 to 2014.  At the 2014 Annual Meeting, he did not seek re-election and, through an approval of a change in the By-Laws, he was given the permanent office of President Emeritus.
A native of Indianapolis, he received a bachelor's degree in journalism and secondary education from Indiana University.  He was hired by the Western Electric Company in Indianapolis in January 1969 and transferred to the company's Shreveport facility in October 1969.  He worked in Public Relations Departments throughout his career, and retired July 1, 1994.  He was director of public information and the public information officer for the Caddo Parish Sheriff's Office from July 1994 to January 2000, taught at Southwood High School in the spring semester of 2000 and joined the Bossier Press-Tribune in June 2000.  In October 2001, he was named director of media and public relations at LSU-Shreveport, a position he held until he retired on Jan. 2, 2007.  While working at LSUS, he earned a Master of Science degree in human services administration.
President – Mary G. Jarzabek, LSU Shreveport, Department of Arts and Media

Ms. Jarzabek pursued a career in technical television production for 13 years before becoming an instructor at LSUS.  She served as Producer/Director at KNOE-TV in Monroe and KSLA-TV in Shreveport.  During her tenure at LSUS she has served as the debate coach, instructor in acting and technical theatre arts and video production.  She is currently the Director of Electronic Media in the Arts & Media Department at LSUS.  She serves as the advisor to the Almagest Student News – Video and helps students produce video news about LSUS events and issues.  She teaches classes in video production, electronic media journalism, public speaking, advertising, and media law.
Senior Vice President and co-founder – John Lieberman (AKA John Lee), retired news director – News Radio 710 KEEL

John has lived in Texas, New York, Hawaii, Mississippi, Japan, Taiwan, Oklahoma, Kansas, and now Louisiana.  Before getting into radio, he spent four years in the US Air Force Security Service.  His professional experience is extensive:  afternoon newsman, KEEZ-FM, San Antonio, TX – Assistant News Director, KXXO-KMOD, Tulsa, OK – News Director, KWBB, Wichita, KS – News Director, KWKH/KEEL/Town Square Media, Shreveport – Interim Brand Manager, NewsRadio 710 KEEL, Shreveport.  41+ years in radio news, 37 of those in Shreveport.
John is and has been involved in many professional and civic activities: Society of Professional Journalists, Radio and Television News Directors Association, Louisiana Associated Press Broadcasters Association, Shreveport Journalism Foundation, DSU Festivals and Events Committee, Crime Stoppers of Shreveport, Local Emergency Preparedness Committee, Citizens' Police Academy, Northwest Louisiana Walk of Stars.
In his own words, "My favorite weekend release is autocrossing with the SCCA (Sports Car Club of America) — tossing my radically-modified 1965 Austin Mini around a parking lot full of orange traffic cones on a Sunday afternoon."
Vice President – Financial Resources and Fundraising
Randy Brown is the Vice President/Publisher for the Bossier Press Tribune Newspaper in Bossier City, LA.  We asked Randy to write a little about himself:  "Where do I start? Essentially, I have the sincere honor and pleasure of leading our BPT team! Having a presence in the community (volunteering both for community service events and also for area organizations (board member)), making sure that our newspaper serves God and our community in a manner that is profitable not only for God and the community, but also for our team members and their families……oh, and lots of hard work too!
How I got from the past to the present:  Worked in family electronics and appliance distribution business from age 12; graduated from Captain Shreve High; finished at LSUS in 1985; completed MBA at Centenary College 1994, working in the family business the entire time; family business closed in late 2000 (after almost 40 years in business). My age at the time was 39. I went to work at the newspaper shortly thereafter and served as Advertising Manager for almost 12 years before moving to the role of Publisher."
Vice President – Professional Development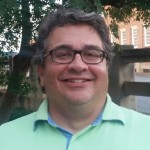 Scott Anderson is the Executive Editor for Metro Leader.
Scott was born to tell stories. As a child, he would announce his presence in a room by declaring "I have some good news, and some bad news," and he's been sharing the news ever since.
In fact, Scott's first "paying gig" was writing obituaries for The Hutchinson (Kansas) News. That's where he learned the fundamental tenant of accuracy in journalism. It's also where he learned about the deep, personal connection many people make with their local newspaper. He helped cover his first presidential election before he could vote, and that's when he was hooked.
Scott served for two years as managing editor of the newspaper at Hutchinson Community College. He also worked for a local radio station as the overnight disc jockey and the morning news reporter.  As he transferred to the University of Kansas to pursue his bachelors degree, he had visions of seeing the world as a writer/photographer for National Geographic. But the allure of a daily newspaper only grew stronger.
After college, Scott joined Gannett as a copy editor at The Jackson (Tennessee) Sun. Along the way, he designed and edited pages for the News and Sports sections, wrote a weekly column, served as systems editor and became the newspaper's first online editor. As online editor, he launched CyHigh, a news website written by area high school students. Scott transferred to The (Shreveport) Times in 2005. As video and technology editor, Scott finally fulfilled a childhood dream – making movies.
Scott left daily journalism in 2011 for a new challenge – content marketing. But two years later, journalism's siren song lured him back as executive editor of Metro Leader, a monthly community newspaper currently publishing in Shreveport/Bossier City; Natchitoches; Marshall, Texas; Corpus Christi, Texas; and Lubbock, Texas.  Scott has always embraced the challenge of learning newthings. As vice president for professional development, Scott is committed to helping Shreveport Journalism Foundation members challenge themselves to learn and grow in their careers.
Recording Secretary
Sara Kleinecke – Splash Kingdom, Group Sales and Marketing.
Sara Kleinecke is a native New Yorker who now calls the Ark-La-Tex home. She is a former television news reporter, producer and anchor who spent nearly six years in the news industry both at KFDX 3 News in Wichita Falls, Texas and here locally at KTAL NBC 6 News in Shreveport.  Currently Sara is the Group Sales and Marketing Coordinator at Splash Kingdom Water Park in Shreveport.  She is considered the "face" of Splash Kingdom and has direct responsibility for maintaining a positive image of this local attraction.  Sara has nearly a decade of combined experience in marketing, sales, public relations and journalism.  She received recognition in the local tourism industry by being awarded the 2016 P.R.I.D.E. Award for Outstanding Attraction Professional of the Year for her work at Splash Kingdom Water Park. Sara is a member of the Public Relations Association of Louisiana and a member of the Women's Auxiliary for The Salvation Army of Shreveport-Bossier.
Treasurer – Scott Grayson (ex-officio), Squires